Engagement: the ultimate metric
Z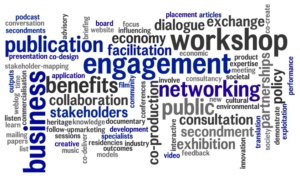 ulmarie Padín, Co. designs strategic messages for the ultimate marketing metric - engagement. Our goal is to shift the mindset of your audience and take action. We offer training solutions for top companies worldwide, and coach Fortune 500 CEOs, business owners and entrepreneurs to gain visibility and lead successfully.
We tackle the Top 3 challenges companies face today

Trend #1 Technologies and markets are rapidly shifting.
We are all working with greater uncertainty, ambiguity and change than ever.When technologies and markets shift, companies need to transform themselves efficiently.  Company resilience increases by training leaders, managers and employees who are struggling to transform themselves efficiently. Resilience is about dealing effectively with – and making the most of – what we experience in everyday life. This skill helps employees be more effective, and sustain their efforts.
Trend #2 Developing talent in emerging markets.
New emerging markets like Latin America and China demand a new set of skills for executive talent to succeed in a global economy. Companies are investing in developing their talents to build the skills and competencies required to capitalize on their growth, and teaching them what customer service looks like in a global economy.
Trend #3 Coaching employees emotional and social competencies.
Emotional intelligence is the ability to bring out the best in ourselves and others – a crucial part of a leader's repertoire. Developing soft skills like emotional intelligence makes a difference between a highly effective and an average professional contributor. 
Top 10 things that make Zulmarie Padin Co. the go to company for training and coaching:
We study your needs and your audience and custom-fit every message.
We design a state of the art presentation with your guidelines in mind.
We create a customized follow-up program to make the messages stick.
We Give you feedback on the outcome from the field.
We observe patterns, identify behaviors and analyze the gaps.
We provide follow-up one-on-one coaching to develop your talent.
We create a safe environment to guarantee the learning goes beyond the classroom.
We enable teams to work on creative solutions in real time.
We act as facilitators, and insure that participants achieve sustained behavioral changes.
We make it simple, we save you time and money
How we connect with the audience 
First, we identify what is the level that we will be training.
Second, we design learning activities based on where they are situated on three domains:
Cognitive (the development of intellectual skills) – Knowledge
Affective (feeling, motivations, perceptions) – Attitude
Psychomotor (use of motor skills and coordination) – Skills
New challenges require innovative action learning 
Executives today have more complex decisions to make —and less time to make them. To add to the challenge, companies must find ways to execute their strategies effectively across multicultural global organizations.This demanding environment requires for executives to be agile, focused, and committed to their ongoing professional development.In this context innovative action learning is imperative. Businesses need assistance in getting focused on what's "important" to make the right decisions. We make the complex simple and share our best practices from top leading companies to save you time and money.
Entrepreneurs need a grounded strategy 
High energy, creative, full of great ideas entrepreneurs are Jacks of all trades. But where to start?We help you identify your strengths and areas of growth, unlock your potential, and transform your ideas into marketable opportunities with proven winning strategies.Our group of professionals will help you manage the solo-preneur face and help you identify the right time to create the next level of success.We can pinpoint where you shine, polish your sales skills, and share your message with the marketplace in neon lights. Ready to shine with confidence?
---
Professionals need to lead their career path
You know you are the best, but you are ready for a change. Whether it's moving up on the career ladder, shifting roles, or changing industries - we know you want to make it big and start earning what you deserve. But guess what? There are people striving for the same thing all around you.This means that it takes more than wishful thinking and the law of attraction to make it all happen. You need a clear vision with a sound strategy to go after the right opportunity: a career path aligned with your values and strengths. We can give you that edge!Ready to clarify your goals and make it happen?
---
Business Consulting Takes Your Vision Into Action
We listen with all our senses. We observe the context of your special situation, filter out the noise and highlight what's important, to reach your new business goals, market your product or align your team with the skills they need.We connect the values and trends to formulate the straightest line to take your vision to action with the right tactics to get you there faster - using the best practices, saving you money, energy and time.Our company brings to the table a global perspective, which is a result of the work we have done all around the world. Our consultants can assist you with anything from the day-to-day challenges, to important issues, such as addressing cross-cultural differences.
Zulmarie Padin, Co. has improved the business results of top leading companies. Our practical insight and simple approach to complex issues will guide your company into the next level of success.
---