Zulmarie Padin, Co. designs strategic messages for the ultimate marketing metric: ENGAGEMENT. We are seeking a passionate team of interns who want to make a difference and leave a mark.
This project is designed to give you visibility and real-world experience with tangible skills to add to your resume.
The interns will be working directly with the principal, Zulmarie Padín. She has coached Fortune 500 CEOs, government leaders, business owners and successful entrepreneurs.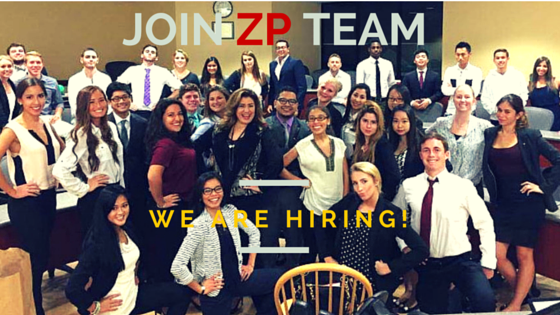 The intern(s) will be supporting Marketing & Communications Community
If you are interested in the following fields and want to be part of their success story, the following opportunities are available:
Writer/Content Curator:
Responsible for searching and curating content and posting on social media platforms including Twitter, Facebook, LinkedIn, Google+
Marketing:
Gain customer insight to help the project reach their target audience. Gather information, present findings and implement strategy.
Public Relations:
Create the content buzz, share it with media outlets and present new ideas on how the project can participate in news worthy events.
Graphic Designer:
Designing visual materials for web, social media to promote the projects.
Video/Edit:
Shooting and editing videos to create behind-the-scenes, and short video presentations.
Here is what our interns say about their experience at Zulmarie Padin, Co.
Vanessa's experience:
"Benjamin Franklin once said "tell me and I'll forget. Teach me and I'll remember. Involve me and I will learn." I think Franklin might have interned at ZP Empowering Success at some point in his life, because (…continue to read)
Jessie Yu's experience:
"Before I applied to the intern, many of my friends failed with their application and went back to China. Their suggestion to me was (…continue to read)
---
---
---
---
Requirements
Students applying must have strong communication skills and a passion for journalism, social media engagement and community building.
Interpersonal skills: Enthusiasm, quick learning and a creative self-motivation/activation, willingness to take initiative, and motivation to seek learning opportunities.
How to apply
Please send us your resume and cover letter* to ensure consideration for the multiple interns positions. In the subject line, designate which position you are interested in.
*Cover letter: Call us old-fashioned, but there is no better way for a candidate to make it to the top of the resume pile. Let your cover letter speak for you – and speak to us! Tell us who you are, what makes you tick, why hiring you would be a great decision and anything else you think we should know about you.
We invest a tremendous amount of time and effort in new interns, so it's important to ensure that there is a "fit" between us. Our hiring process consists of several steps, including resume review, telephone screening, in-person interview and opportunity to participate in any of our community events for our top clients.
In the meantime, take time to get to know us through our website and our social media platforms.
Send a cover letter and resume to Zulmarie Padín
zulmarie@gmail.com
305-824-7627