Zulmarie Padín en Nueva York – private workshop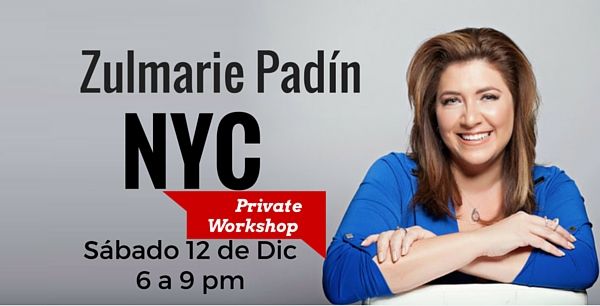 Breaking News: Quedan 5 plazas! Zulmarie Padín en Nueva York
Único taller privado: Sabado 12 de Dic
Lugar: Teatro Restaurante Boulevard
Lidera con Éxito y Corazón
Querido Lider de nuestra comunidad,
Reserva tu espacio ahora! Solo 15 plazas. No pierdas esta oportunidad de hacer este taller conZulmarie Padín.  Sabado 12 de Diciembre de 6.00 a 9.00pm
La conferencia que dicto en Noviembre nos impacto a todos de tal forma que nos pusimos en marcha para que regresara a realizar este taller presencial.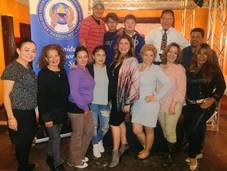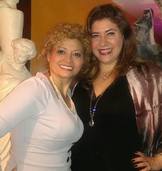 Así surge la idea de organizar este evento exclusivo para ti y los lideres de nuestra comunidad con ganas de crecer y prosperar.
Ven a recibir el gran impulso de energía y conocimientos que trae Zulmarie Padín. Su coaching la hora son $300.00 y sus entrenamientos $2,000 al dia! 
Gracias a Quetomas La Revista y la colaboracion de REDCOLNY tu inversion sera solo $75.00. Si te registras antes del 5 de Diciembre.
 Click aqui para reservar tu plaza con paypal o tarjeta de credito
Te invitamos a conectar con tu camino del heroe…
Porqué lo necesitas:
Estás en un momento crítico de identificar qué potenciar, qué soltar y qué innovar.
No tienes tiempo que perder ni dinero que malgastar en iniciativas que no son sostenibles.
Quieres continuar haciendo lo que te apasiona y ser una líder exitoso y próspero.
De este proceso y la decisiones que tomes depende tu futuro económico, felicidad y paz
Taller Personalizado!
No importa en que momento de vida estes… Zulmarie Padín es una experta a nivel global y compartirá las mejores practicas que ayudan a los lideres de grandes empresas a triunfar.
Te garantizamos que saldrás de esta experiencia con:
•  Estrategias frescas y nuevas ideas para llegar a tu próximo nivel.
•  Acciones de poco esfuerzo que generan grandes impactos y resultados
•  Confianza como líder para crecer y tener la vida que deseas
•  Nuevas conexiones valiosas para tu éxito
Reserva tu plaza ahora en este link
Su trayectoria
Cuando Zulmarie Padín hizo su propio "camino del heroe" pasó de ser nadie a convertirse en una celebridad. Hoy es reconocida como la Coach del Éxito en Estados Unidos. Ella impacta a millones de hispanos con su segmento televisivo que se transmite por el canal Univision a nivel nacional.
Ha trabajado en Europa, Asia, Latinoamérica y Estados Unidos para empresas lideres en su industria, como Master Card, Estée Lauder y The New York Times.
En 2015 The National Association of Proffesional Woman – la organización mas prestigiosa de mujeres de negocios en EEUU– la escogió para desarrollar un programa de talleres exclusivo para todos sus "NAWP Chapters" en la Florida.